Good afternoon. Congratulations to our HS Band, plus a few middle school kiddos, which has qualified for the state championships! Go Jays!
Good morning. One week from today, March 9th, April Kane will be hosting the Natal Grange food bank from 1-4 if you are in need of assistance. Thank you, April!
Happy Friday! There will be a HS T&F parent meeting with Coach Kaczenski on Tuesday, March 1st right after practice in the main gymnasium.
Jewell School is seeking qualified coaching candidates to become either our next head MS VB coach or our next head HS VB coach. Please contact Emma or Mr. Freeman if you are interested.

Out of precaution, all morning bus routes will move to snow routes today. At this time the afternoon routes will return to normal. If this changes, we will notify you. Thank you

Jewell School will be on a 2 hour delay today - 2/24/2022
Good afternoon. HS T&F practice begins February 28th! Please be sure you have an active physical on file in the office and are registered in FamilyID before practice begins next week. Please contact Emma or Mr. Freeman if you have any questions.
The final score of the girls game is Crosshill 62 and Jewell 26.
Halftime of the girls game...it is Crosshill 37 and Jewell 21.
The final score of the boys game is St. Paul 41 and Jewell 22.
Halftime of the boys game...it is St. Paul 22 and Jewell 14.
Good afternoon. The HS BBX team will be playing tomorrow at 3:45 at George Fox University. The opponent is still TBD. The GBX team will also be playing at George Fox University at 5:45 versus Crosshill. Tickets are $5 and $8. I hope to see many Jewell Blue Jay fans in the stands at the tournament tomorrow!
Good evening. Due to a lack of available officials, the MS GBX game scheduled for Monday, February 14th, has been canceled. I apologize for any inconvenience.
Good evening. CSLA cannot field a team tomorrow for our 1 pm HS GBX game...so it is unfortunately cancelled. The boys game will still be played at 2:30 pm so please come and cheer on the fellas.
Good afternoon. CSLA has had to forfeit the HS GBX game scheduled for tonight, February 10th, due to a lack of players. CSLA apologizes to our school. The BBX game will now be played at 6 pm. Sorry for the change.

Please see the attached flyer for the upcoming visit of the Dental Van!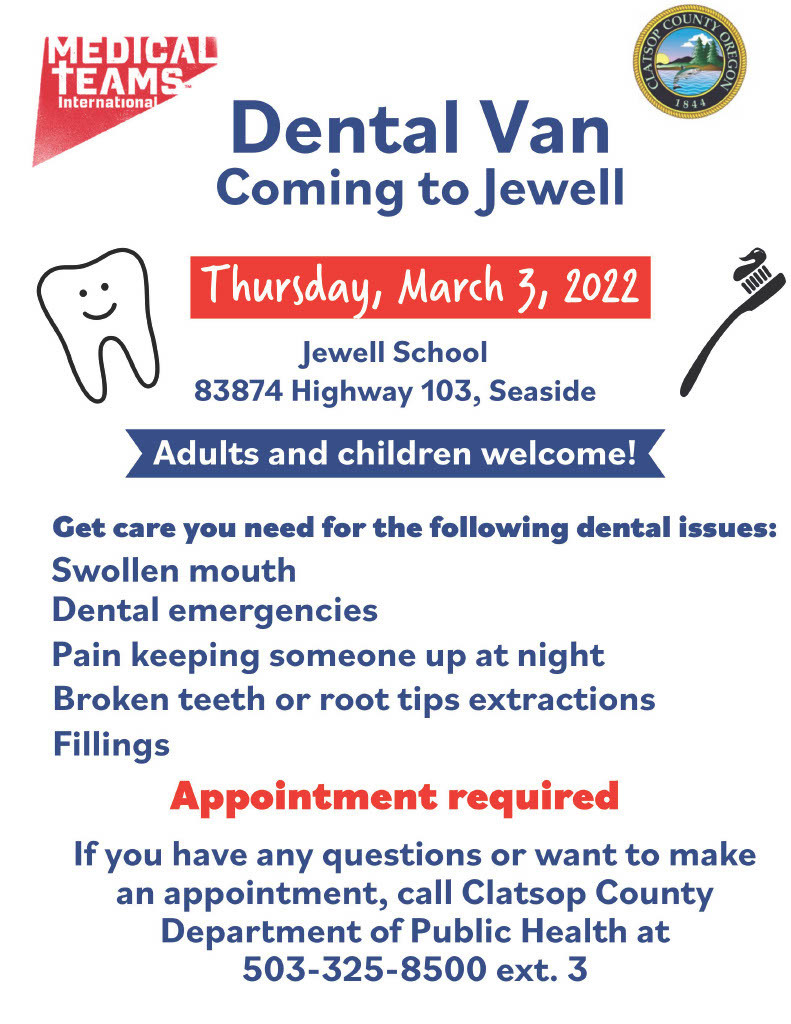 Good evening. The MS GBX game scheduled for Wednesday, February 2nd in Vernonia has been postponed due to a lack of available officials. It will hopefully be rescheduled soon. Sorry for any inconvenience.
Good evening. The MS GBX game scheduled for February 2nd will now be played in Vernonia and not on our court. Vernonia will now visit us on February 14th. I'm sorry for the change.
Greetings Jewell School community- We hope that everyone is staying safe and symptom free as we continue to navigate this COVID-19 pandemic. As a school district, we have been working hard to maintain the safety of our students and staff by following safety protocols and procedures. Safety has been and always will be our number one priority. We want to keep kids in school as much as possible. We are still hearing of confirmed COVID-19 cases in our community and amongst our students and staff. However we are also seeing other illnesses that are not COVID-19 becoming more and more prevalent. If a student or staff member shows symptoms of COVID-19, we have the capability to administer a rapid test for them. As we have been administering those tests, we have been seeing that the majority of these tests are returning as negative. Therefore, most of our students and staff that are showing symptoms are sick due to non COVID-19 illnesses. Whether it is COVID-19 or any other illness, one of the best ways to help mitigate spread, is to keep your children home if they are experiencing symptoms of COVID-19 or any other illness. Please encourage your children to continue to wear appropriate facial coverings while they are at school. We know and understand that COVID fatigue is real. We have all been feeling it. We have been enduring this pandemic for almost two years now. We hope that there will be a light at the end of the tunnel soon. Please continue to keep yourselves safe. Please reach out to us with any questions that you may have. Stephen W. Phillips, PhD Jewell School Superintendent

The Jewell School District is looking for individuals for fill vacancies on its Budget Committee. If you are interested, please click the following link for an application.
https://5il.co/14uas