Good evening. We are seeking qualified candidates for two middle school basketball coaching opportunities...one for the lads and one for the ladies. The boys season will be from mid-October up to winter break in December. The girls season will be in January and February. Please contact Emma or Mr. Freeman if you are interested. Go Jays!
Good afternoon. At approximately 1:15 pm today, Jewell School's well was not able to keep up with the demand and unfortunately, we ran out of water. We have been supplying students with bottled water and hand sanitizer as needed. We plan to run our afternoon busses at the regular time today. Our High School Volleyball game against St. Paul has been cancelled and will be rescheduled. We will have practice afterschool for MS & HS Volleyball, HS Football and MS & HS Cross Country. We will NOT have any practice for the MS Club Football today. We have water delivery scheduled for the early morning and fully anticipate school will be in session tomorrow.
Happy Monday! I hope you have had a pleasant weekend. The Natal Grange will be open this Wednesday, September 8th, from 1-4 for anyone in need of some food assistance.
Jewell School Community- A member of our staff has tested positive for CV-19. We have conducted the initial contact tracing and have notified any individuals who may need to quarantine at this time. Please monitor your students for any symptoms and notify Jewell School if they occur. Thank you and BE SAFE!! Stephen W Phillips, PhD Jewell School Superintendent
Good afternoon. Unfortunately, we will not have enough middle school football players to schedule interscholastic games this year. So, we are still hoping to keep any interested middle school football players, grades 5-8, on the field with Coach Veit for a Jewell School football club! Their first day of practice will be this Wednesday, September 1st, and they will practice every week after school Monday through Wednesday through the month of October. Please contact Emma or Mr. Freeman if you have any questions.

See the flyer below.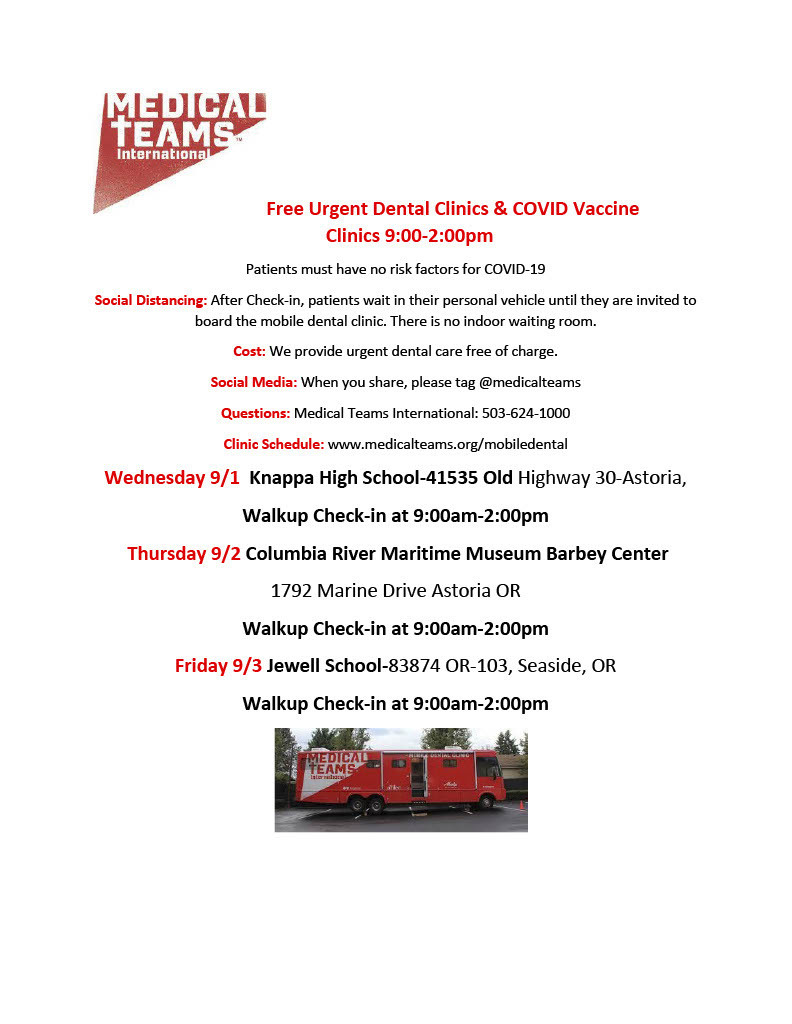 FYI Because of ongoing road construction on HWY 26 there may impacts on bus times for the Blue & Gold Routes. This is occurring in the morning only. If your student rides the Blue or Gold Bus and your bus is late to your stop, please be patient! If the bus arrives late at school students will still be given time to eat breakfast.
Good afternoon! One week from today, middle school football and volleyball will begin practicing after school. Please make sure athletes are registered in FamilyID and have an active physical on file in the front office. Please contact Emma or Mr. Freeman if you have any questions. Go Jays!
https://www.familyid.com/jewell-school-district-8
Hood to Coast 2021 Volunteers This year's Hood to Coast will be different than previous years. We will be serving food outside the cafeteria with a dining area under the covered play structure. There will be limited shower service and the sleeping area has been moved to an outdoor field near the play structure. All of these precautions have been taken to support a safer fundraising event. If you are interested in volunteering, please follow the link to sign up for available slots:
https://www.signupgenius.com/go/10C0F4CA5AE2DA5FFC07-hood
If you have any questions, please contact us at
JewellPTO97138@gmail.com
with your questions. We thank you all for your help!
Good morning, Blue Jays! The month of August has arrived...which means we are approaching the beginning of the fall sports season! Two weeks from today all HS sports will begin practicing. This is the time to ensure that all physicals are up to date and that all registrations in FamilyID are complete. Please follow the link below to take you to our school's landing page where you can then choose either the MS or HS programs. Please contact Emma or Mr. Freeman if you have any questions or concerns. Go Jays!
https://www.familyid.com/jewell-school-district-8

Just another reminder that we will be having Kinder Camp this summer. Please contact the office if you are interested.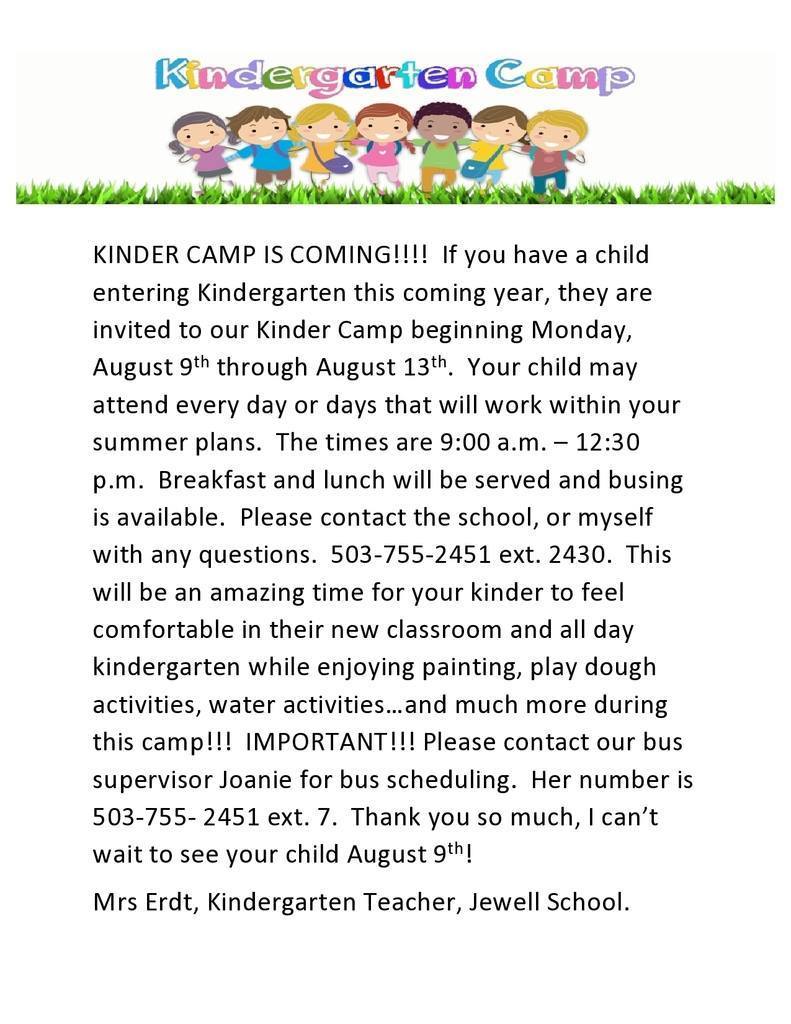 Our youth volleyball summer camp is coming up soon and it's not to late to get your child registered. Contact Jessica Miller and she will email you a registration link. We have decided to offer the camp to students entering 3rd grade as well!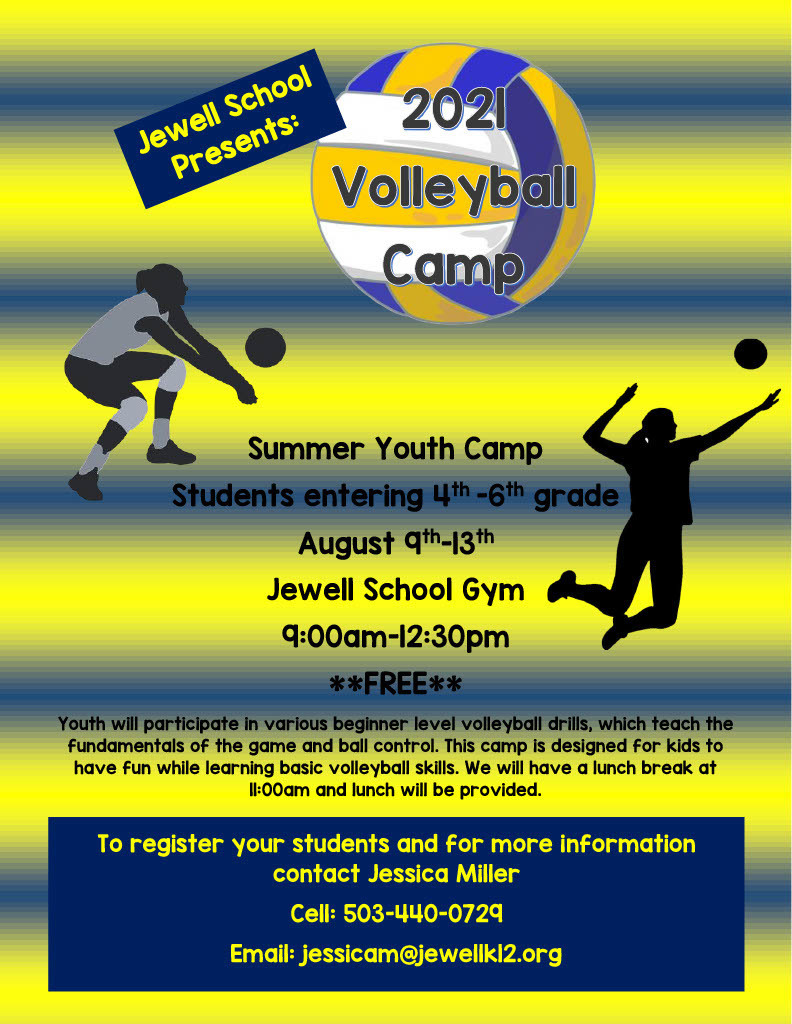 Good morning Jewell. The 2021 OSAA moratorium week is July 25th through July 31st. No team activities or practices are allowed during this week. Fall practices will begin as early as August 16th...so please make sure all athletes have an up-to-date physical on file at the school. All athletic registrations will be available starting August 1st via FamilyID. Please contact Mr. Freeman or Emma if you have any concerns or questions. Excitement is starting to build for the 2021-2022 school year!

Just a reminder that today is Jewell School free swimming day in Seaside. Bus pick up times are: 11:45 - Jewell School 11:55 - Nehalem Valley Church 12:00 - Elderberry
We would like to welcome new board members Lisa Payne and TJ Hecox to the Jewell School Board. They were sworn in at last night's board meeting. Board Chair Mike Stahley and Vice Chair Mike Wammack were also sworn into office. Looking forward to a GREAT year!!!!

Spread the word, our Preschool Open House is this Friday, June 25! This event is by appointment only and we still have appointment times available. See the attached flyer for more information! We are looking forward to meeting all our new preschool students!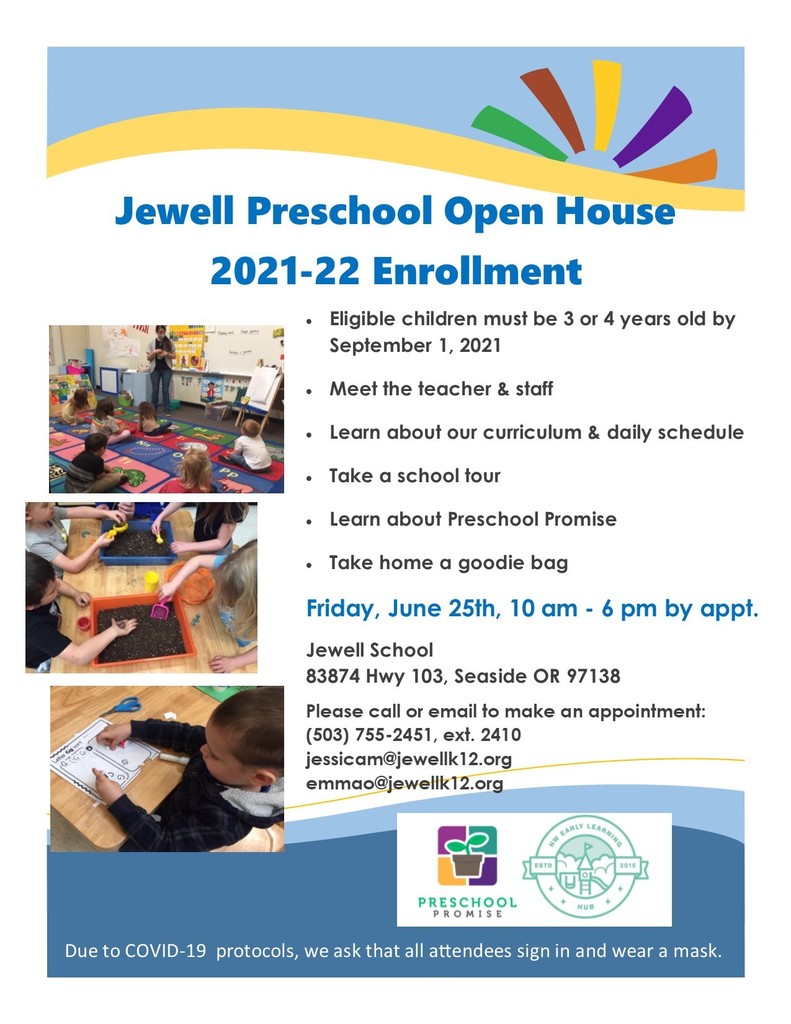 Astoria field trip today!!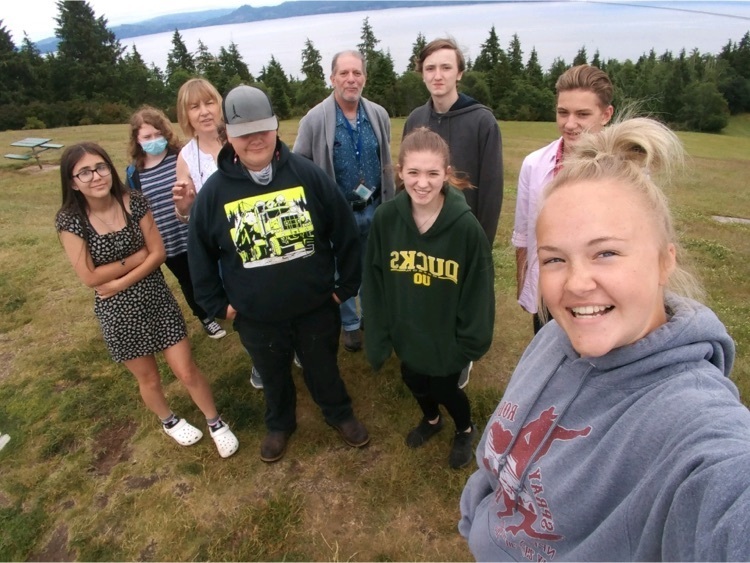 Saddle Mountain CONQUERED!!!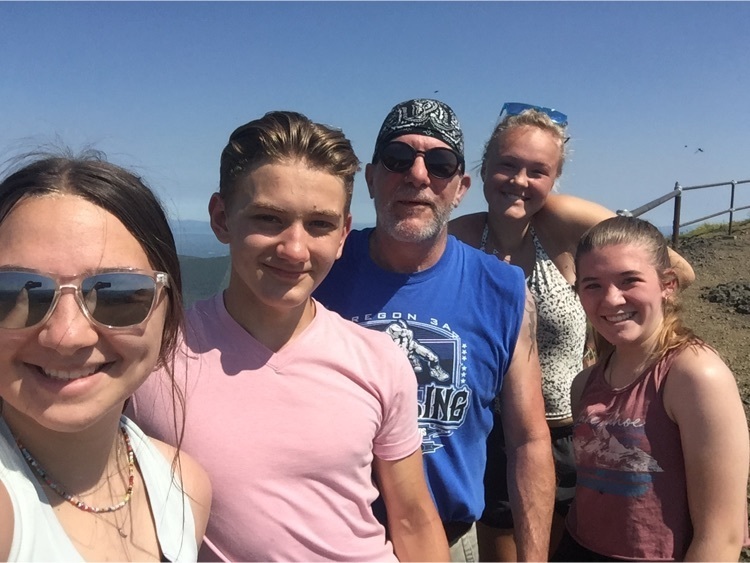 We are pleased to announce that Jewell School has partnered with Sunset Empire to bring weekly swim times for Jewell Students. Please see the attached flyer for more information.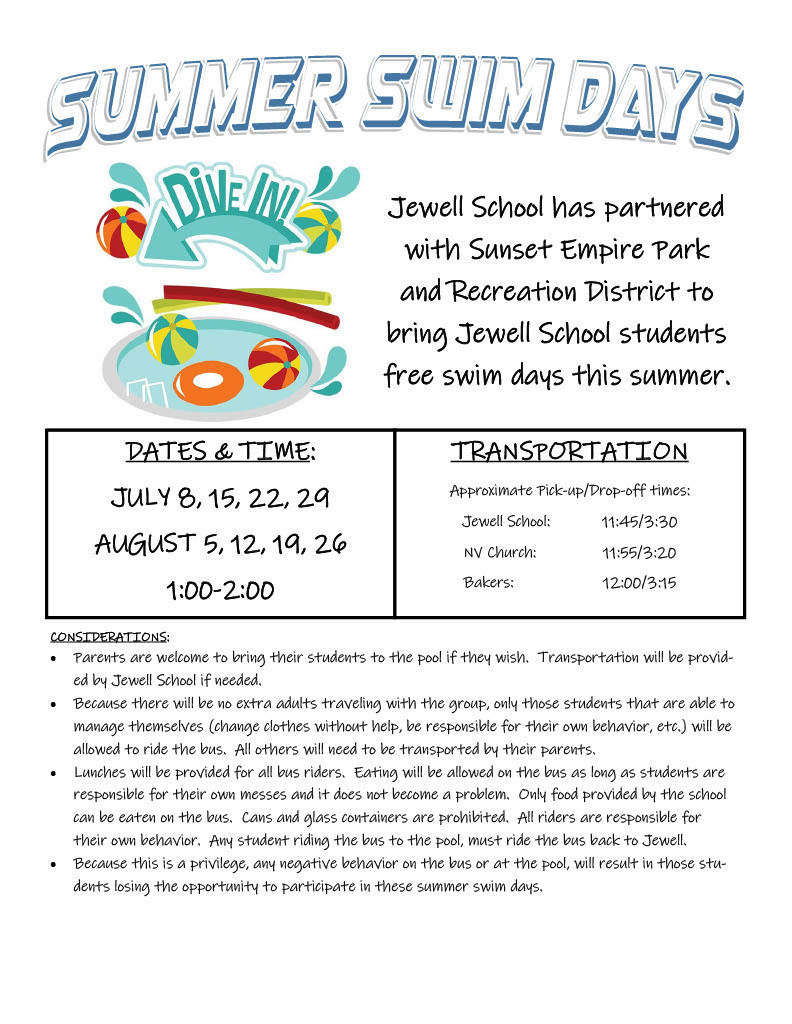 Elsie-Vinemaple and Mist-Birkenfeld fire districts would like to gauge interest in holding more Pfizer COVID vaccine clinics in our area. Please fill out the survey below.
https://hipaa.jotform.com/211676128619057